The Gendai Daisenryaku series is a warfare simulation game based on the highly popular "Daisenryaku" series, but adding scenarios representing realistic conflict situations in an explosive "what if" world environment.
Starting with added elements like "looting" or "AI Reinforcement" for the PC and consumer version, it is a product that will unquestionably satisfy first-time players of the Gendai Daisenryaku series as well as customers who purchased the PC version.

This is a "realistic" situation that may actually occur――
This edition - the latest one in the series - incorporates scenarios that have as a central theme incidents that put the world order in an insecure position, Mop-up operation of the warlord of the try Tribal Area by the joint strategy, The case that a Green Zone embassy was attacked in a trench mortar, Suppression of the United Front for Democracy Against Dictatorship in a country of great river Mekong, The interim government Allied Forces the fight against Terrorist organization and the military coup brought.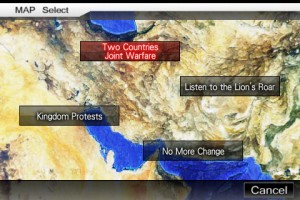 [SCENARIO (ALL 4)]
"Two Countries Joint Warfare"
"No More Change"
"Disputes at the Kingdom"
"Listen to the Roaring Lion"